7 Mistakes to Avoid When Starting a Business During COVID-19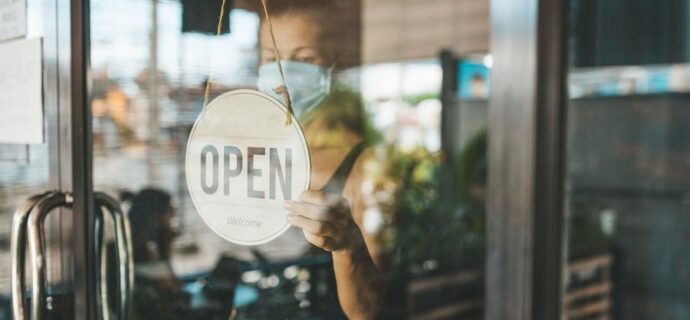 Have you been considering starting your own business during the pandemic? For a lot of people all around the world, the coronavirus has dramatically disrupted professional life. Perhaps, you struggle to find employment because too many businesses have been forced to permanently or temporarily shut down.
Or maybe you've got more time to think about your career, and you've realized you don't enjoy it anymore. Regardless of the reason, more and more experts are starting their venture during the pandemic. In fact, in the US only, 3.2 million entrepreneurs have started a new business during the pandemic. That is an increase of half a million compared to the previous year. Gig-economy enthusiasts, contractors who have been laid off, and employees who are seizing the chance to become their own boss, all are joining forces to reshape the economy.
However, this begs one crucial question: How many businesses started under COVID-19 will survive their first years? A whopping 50% of small businesses collapse within their first five years. The pandemic situation can increase risks. If you are going to give your pandemic business the best chance, you need to avoid these 7 costly mistakes.
#1: Budget Realistically
Budgeting for a new business is always challenging. However, budgeting for a new business is a period of economic uncertainty such as now can be tricky. You need to approach your finances strategically and realistically to avoid nasty surprises. Indeed, budgeting will define not just your expenses but also create a path for your profitability. Therefore, it is essential to make covid-realistic projections. There are already trends in needs and demand that have been identified as the market response to the pandemic. Using that knowledge, you can map out your incoming revenue and the direct cost incurred to achieve those revenues. At this stage, you can't afford to be optimistic about your return. The pandemic has created fluctuating markets that react to fear, contagion rate, and mental fatigue. Being too ambitious with your goals could be damaging, making you blind to future financial risks.
#2: Creativity Is Not on Google
Where do you find a great business idea?
Here's a quick tip for you: it's not something you can google. You will need to find a creative solution that encompasses your expertise and tackles a market need. In other words, you'll have to brainstorm a few ideas before you discover your business superpower. Brainstorming, in theory, should be a freeing process, during which you welcome all ideas. Unfortunately, too many people don't know the best techniques of brainstorming, which can lead to unproductive sessions. You can brainstorm with partners or by yourself. A good practice is to create a visual display, using mind-mapping tools or even role-playing to bring all your ideas at once. Don't waste time trying to judge thoughts before or as you express them. The goal of brainstorming is to accumulate ideas in any shape and form. Then, you discard the ones that don't work for you.
#3: Don't Start Alone
Starting with a limited budget can convince you to do everything by yourself. However, you are not saving yourself any money by managing every role and task in your venture. Your time is best used when you focus on what you do best. Outsourcing some essential tasks will save you valuable time and money. Surround yourself with specialist contractors or automated tools to help you progress smoothly and stay productive.
For a solo venture, you want to outsource the following jobs:
Creating a website
Designing your logo and branded media material
Automating invoicing and bookkeeping
#4: Explain It Like I'm 5
If you can't explain it in simple terms, you don't understand it well enough.
The statement is often associated with scientists who need to explain complex discoveries to an untrained audience. However, the concept also applies to your business vision and your mission statement. A lot of new entrepreneurs make the mistake of wanting to appeal to everyone. Unfortunately, when you start a company, you need to have a clear audience in mind and a specific business identity. You cannot create a long and complex business goal in the hope of ticking all the boxes. Your vision statement will let people know how you perceive your company. Your mission statement is your plan to make your vision come true. Often, confusion can lead to vague statements that make it hard for your audience to know what your business does.
#5: Let People Know
How do you prepare the launch of a business when you've got a restricted budget? It may come as a surprise, but your budget has minimal impact on the business launch. There are plenty of things you can do that don't have to break the bank. Ideally, you want to create a sense of excitement, which you can do by showing people what they can expect from your business. Reaching out to social media influencers, for instance, can help create a buzz around your brand. Local and regional industry influencers can share their story about your product. You can also use social media to create a countdown, sharing sneak peeks and teasers ahead of the launch.
#6: Look Out for Relevant Financing Support
Is there any financial help available to small businesses? In times of economic uncertainty, you may find it hard to obtain a commercial loan for a micro business entity. However, there are micro loans available in specialist industries and sectors. Depending on how you define your venture, you could also reach out to governmental and regional agencies for self-employment support.
#7: Not Planning for Post-Pandemic
It may be hard to imagine a world without covid now, but the pandemic will not remain a constant threat. As healthcare systems get the virus under control, we can expect markets to respond with a surge of demand and competition. As a small entrepreneur, you need to have a plan ready for the post-pandemic market. You need to consider the following elements as part of your survival strategy: new customers, the reopening of fast-paced infrastructures and processes, the arrival of new competitors.
In conclusion, at a time when people are launching their own businesses, it's essential to consider the survival of your business in the long term. From managing day-to-day processes on a small budget to finding your market niche, there are many traps to avoid for entrepreneurs under covid. Keeping your venture afloat begins now.
You might also like