Building a House vs. Buying a House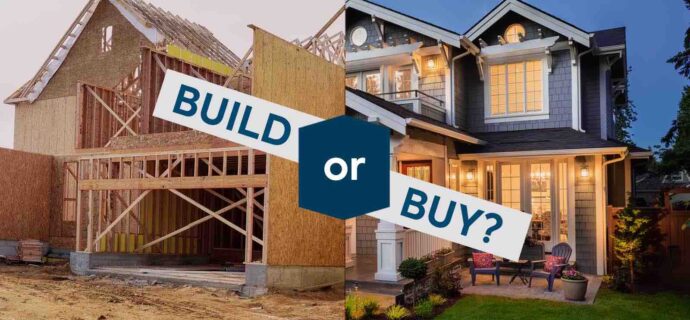 When it is time to move homes, you have the decision to buy a home or build one from scratch. This is not an easy choice, and there are a lot of factors that go into making this decision. Here are a few of the things you will need to consider when you are choosing between buying a home or building a home.
Buying a Home
There are several benefits that come when buying an existing home. Once you have been pre-approved by a mortgage lender, then you can start looking for houses and make an offer. It is much more convenient than building a home.
Using a real estate agent can help make this process go even faster by finding homes that match your criteria, helping you negotiate a price, and filing the paperwork. If everything does go according to your plan, you should be able to make an offer, close the deal, and move in a couple of months.
Being able to move in right away is enough to make some people prefer this option. This is especially important if you are on a tight schedule because you are moving to a new city to start a job or if your kids need to start school soon.
Another benefit of buying an existing home is the cost. In a lot of cases, it is less expensive to buy an existing home. Because of fluctuations in the real estate market, you can time buying a home when prices are at their lowest, which can save you money.
There can also be a lot more convenience when it comes to buying an existing home in relation to where it is. It will likely be in a well-established neighborhood with local neighbors that have been around for a long time. If you need to, you can enter a particular zip code to find a property  in an area that is desirable to you. So, you might consider these 46033 homes for sale, for example, if you were looking to buy in Indiana. When purchasing an existing home, you also won't have to worry about putting in a lawn, as it is more likely to have landscaping and shrubs that are already established and grown.
One big disadvantage is that you may not be able to find exactly what you want. Since you are looking at homes that already exist, it is unlikely that the picture you have in your mind is going to materialize in front of you. You will have to make changes to get it how you want if that is even possible.
Building a Home
Even though building a house is not as convenient as buying an existing home. You have to find a house and land packages, find a builder, and design the home. Even though it does have more moving pieces, it does have some benefits.
Unlike buying an existing home, you can get exactly what you want when you build a house on your home. Since you are designing everything, you can put everything you want. You can create a more energy-efficient home, and that will save you money on utilities in the future.
Even though the initial costs may be higher, you can recoup those by building a more appealing home that can be sold at a higher price. It may also be better for you because it is not going to have lead paint or asbestos, or mold.
You might also like