Building Your Own Home – the Perfect Investment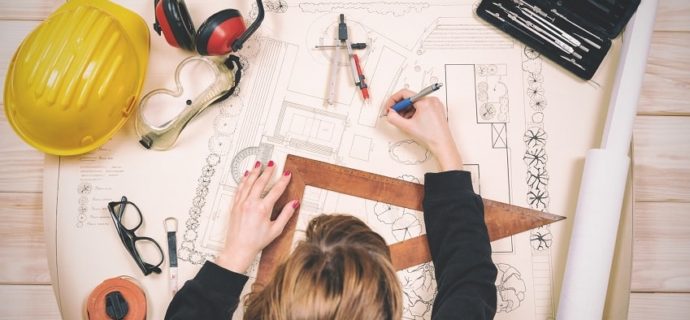 If you have been fortunate enough to have purchased some land recently, which has come with planning permission, you might be wondering if it's time to take a crack at building your own home. Initially, that may sound quite complicated and a huge undertaking.
But actually, it can be the best kind of investment. When you put your cash into brick and mortar, you are creating an asset that will forever hold value. And the land that it was on becomes exponentially worth more too.
So if you are wondering how to get started on building your own home here is a quick guide for you.
Site
The site of the house is going to be one of the most significant factors in making sure the rest of the house is actually safe enough to live in.
Which, of course, should be the goal. Not too many people are qualified to undertake everything that will be required to build a home, personally. But you will be able to act as your own contractor if you wish to do so.
You can, of course, hire subcontractors when you feel they are needed as well. Much of the labour you can actually perform yourself, or calling the help of friends and family too. This can make a huge difference in how much money you will spend building the house.
And anyone who has watched Grand Designs will know that many people have built their own beautiful homes. However, please don't take it on too lightly. This will be a significant time investment, this is not just about the money.
Your site will need to be cleared of anything that would make putting the foundations of your home challenging to do. As well as generators. Foundations you are going to need a minimum of 25 feet around the plant house perimeter. A crew will be able to help you make sure that you have everything measured out correctly. Your surveyor will stake out the lot, and you can be sure they will adhere tightly to the boundaries and any technical drawings that you have had done.
A quick note here is you will need to provide simple things like toilets and a place for your staff to eat. As well as power generators.
Foundations
A little bravery and a little chemical compound. There will be a trench; it will make a space for the foundations, a foundation specialist will probably be called in to make sure you do this correctly. There will also be many structures built for footing. And of course, your foundations will need to be waterproof because they will be back for a short period.
Plumbing and Electrics
Some of this you can do yourself, and some of this you really should call it a professional. Bear in mind that the pipes are late will be covered in concrete, so if you have made a mistake, it will be costly. Electrical wires will also be running through concrete and metal conduit. This is where you really need a very experienced electrician, in fact, you're going to need a Level 2 Electrician.
Concrete
The house slab will now be laid. This will be foam board insulation, then a 4-inch minimum gravel base will be placed on top. On top of all of this, there will be a plastic vapour barrier. Next will go on the wire mesh reinforcement, and finally, a concrete slab layer will be poured over the top.
Surprisingly quickly, that is everything laid, and it will be time to build the rest of your house.
Framing Roofing and Siding
This is where your vision will start to come to life. All of the bare bones of your home will now be put up. It's going to begin to look like a house, and this bit does go particularly quickly.
There will be multiple crews working who want to make this happen in your schedule. There will be lumber, felt or house wrap, plenty of adhesive, and many many nails. During this phase, the windows and doors will take shape too. Within just a few weeks, the entire shell of the house can be completed.
Electrics & Plumbing
Now the whole shell of the house is ready; it is time for the inside jobs to start taking shape. Once all of the final internal pipes and electrics are done, it will be time for the bricks.
Drywall
If you have the time and a little bit of knowledge, you can do the dry will buy yourself. Your interior will begin to look like a home now. There are many simple step-by-step guides that you can follow to do the drywall yourself. However, if you did want the work done quickly and efficiently and the team is your best bet.
Interior
Your cabinets, sockets, light fittings and any extras that you have decided you would like will all now be placed inside. This bit can take longer than expected, but they are always worth the wait. The small details are what will truly make this your own home. And you should remember that the ceiling and the drywall will need a few days to settle before you start adding the trimmings.
Finishing
If you are an excellent painter, then you probably want to add the finishing touches yourself. However, like much of building your own home, it is highly recommended that you have a decorating team-this can often be much quicker.
All of your countertops in your kitchen and bathroom will now be installed, those reclaimed sinks that you fell in love with will now be fitted too and a new utility room, if you're having one of those, is now ready to go. The plumber and electrician who have been working on the project will make a final appearance here to connect everything up and run some tests.
Flooring
Now there is less footfall. It's time to lay the flooring. If you have chosen carpets or tiles, it is imperative that you wait until you don't have people coming and going so often so you can keep them in pristine condition. And it's a great time to order a dumpster, to get rid of the debris that is still left.
Garden
This is the cherry on the top of the cake. Expert landscaping is not cheap, but if you are building a home to sell it on, then landscaping will make it much more attractive to buyers and drive the price up.
The creative freedom you have when designing your own home is huge. You can design something absolutely perfect for you and your lifestyle. And when all is said and done, it is one of the best investments that you can make.
You might also like