How to Become a Social Media Influencer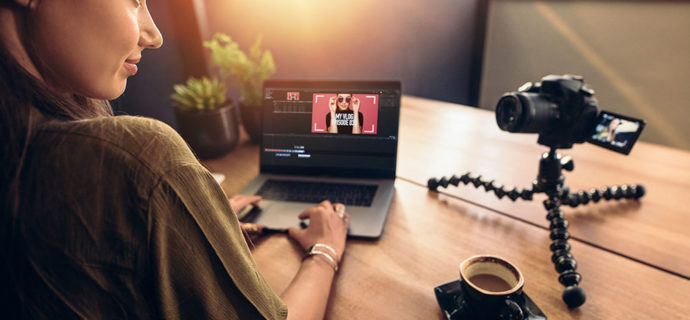 Social media influencers are social media users, across one or multiple channels, who have a large and/or niche follower audience. Businesses sometimes reach out to these individuals and have them talk about their products or services, thus accessing an immense customer base using a trusted voice. For example, have you heard of Cecilia Katz? She's a YouTuber and Instagrammer who uses these platforms to leverage her expertise as a makeup artist to be an influencer.
Anyone can be a social media influencer — it really depends on the type of content a person produces and how they interact with their audience. If you're interested in working with brands as an influencer, these are five steps you must follow.
Pick a Topic
As an influencer, your social media channels will cover a topic. However, you can be broad or focus on a niche. You could talk about television shows in general or follow a specific series, for example. Also, decide how you'll cover that topic. YouTube, Instagram, Twitter, and other social media channels all provide unique ways to create material.
Find Your Voice
Your voice is what makes you unique, and it's key to building an audience and standing out among millions of other social media users. You'll need sincerity to build trust with your followers, so aim to use a voice that's genuine and cover a topic that's interesting to you. You'll also want to think about your ideal demographic. For example, you'll talk to kids in a different way than you would young adults.
Use the Right Platforms
Several social media platforms are available, and you can mix and match the ones you use. However, it's best to use the channels that are most popular among your target audience. Doing this helps ensure it's easy for users to find your content.
Understand the Business
There's a business side to being a social media influencer that goes beyond creating content and engaging with users. To find consistent success, you need to set goals and track your progress. Keep the following considerations in mind to help you succeed at the business side of being an influencer:
SEO: Learn about SEO basics to help people find your content.
Target audience: Having a target audience, whether you're casting a wide net or focusing on a small demographic, will help you develop appropriate content.
Metrics: Follower count is an important metric, but engagement — and numerous other metrics — are arguably more important for influencers.
Content calendar: Create a calendar to help you publish content consistently and effectively.
Have Fun
The secret to long-term success as an influencer is to not forget why you love interacting with the public. Whether you have fun through your unique voice or simply in creating content, hold onto that to keep content creation from ever being a hassle.
Becoming a social media influencer can easily be a reality for you. The key is to be deliberate about the content you create and keep working toward meeting specific goals. Follow these tips, and you'll be well on your way toward striking deals with businesses as an influencer.
You might also like